OUR BEERS
We create innovative, flavorful, and inviting beers. The majority of our grains and hops are North American grown, with a preference for those produced in the Pacific Northwest. Regardless of European, English, or American beer style, we select and blend these high-quality, local ingredients to achieve our flavor profiles. And while we love the Old World malts and hops, we're committed to using local ingredients in an effort to make our business as sustainable as possible. Our English-style Pale Ale or Italian Pilsner may not be completely traditional, but they are definitely tasty!
​

Our beers are currently only available through special releases but we continue to develop new recipes in preparation of our brewery & taproom opening later this year. Below are some that we can't wait to share with you.
Toplivo Imperial Stout
9.2% ABV
0.73
BU:GU

Dark and heavy, like January in Seattle. What the hell happened to the sun?
(2019 AHA Round 1 – 2nd place)
Highside Strong Ale
9% ABV 0.64 BU:GU


Not quite as Arrogant as some others.
(2019 AHA Round 1 - 2nd place)
Ascari Amber
5.5% ABV
0.66 BU:GU

If you like malty and crushable then you're in the right place.
Burn Out Black Ale
6% ABV
0.78 BU:GU
The color will probably throw you off, but it's nice and light. We promise.
Hangar Straight Porter
6.2% ABV 0.72 BU:GU


Maybe it's a stout? What's the difference – tastes great, more filling.
Jumpstart IPA
6.2% ABV 0.79 BU:GU


A seriously kick-ass IPA. At least that's what our moms told us.
Knickerbrook English-Style Pale Ale
5% ABV 0.69 BU:GU
Not as pale as you might think. Drink at least 8 of them to be English.
Late Apex Hazy IPA
6.3% ABV 0.65 BU:GU
Trendy AND delicious! Our take on the current juicy craze.
Parabolica Pale Ale
5.5% ABV 0.74 BU:GU
Yes it's hoppy, but nope, it's not an IPA.
Power Horse IPA
7% ABV 0.79 BU:GU
You think we're lame and we need a higher ABV IPA? Here ya go. Don't drive home.
Qualifier Blonde
5.4% ABV 0.39 BU:GU
Get off my lawn – your beers are too dark and/or bitter. Not this one.
Rabbit Ear Wheat IPA
5.8% ABV 0.68 BU:GU
Kind of like a hazy, but not exactly. Lots of wheat & hops.
Carousel Pale Ale
4.4% ABV 0.65 BU:GU
Our head brewer's favorite, so it's either great or he has no taste.
Dingle Dell Dark Mild
4.4% ABV 0.40 BU:GU
What is a Dark Mild? Try it – we promise they're good. Again, it's English so drink 8.
Flying Kilo Irish Stout
4.7% ABV 0.45 BU:GU
Nope, we don't have Guinness on tap, but we do have this. No kilt required.
Pitstop NW Pilsner
4.9% ABV 0.55 BU:GU
Uses tasty Skagit Valley malt. Pilsners for us used to be…meh. Now we love them. Weird.
Schwarzbier
4.7% ABV 0.61 BU:GU
No relation to Spaceballs, just a great dark lager.
Veloce Italian-Style Pilsner
4.9% ABV 0.64 BU:GU
Basically a dry-hopped Pilsner with European-like hops. Saluti.
Donation IPA
6.3% ABV 0.76 BU:GU
We made this IPA for a fundraiser. We ran out early so we kept the recipe.
Virage Saison
6% ABV 0.53 BU:GU
A hoppy Saison with a cultured (um, borrowed) yeast strain. It'll probably taste different every time.
This is a hazy/juicy style with lots of citrus, tropical, and stone fruit aromas. It has a creamy mouth feel and medium bitterness level.


WHEELIE POP PROTOTYPE SERIES
Prototype Series beers are our small batch, limited quantity, and often experimental beers that we release periodically, either on-draft or in bottles. They may be barrel-aged, bottle conditioned with "Brett", a new beer style for us, or general experiments in flavor profiles or fermentation regimes. They'll always be interesting, full of flavor, and exclusive.
WHAT IS BU:GU? And why we think it matters.
IBUs, or International Bitterness Units, are a reasonable measure of a beer's bitterness, but they don't tell the entire story - the amount of malt is also important. Malt adds sweetness to beer, while hops add bitterness and aroma. So, a lower gravity (lower alcohol) beer with the same IBUs as a higher gravity (higher alcohol) beer will taste more bitter because there is less malty sweetness to offset the hoppy bitterness. The ratio between these two aspects - the bitterness unit to gravity unit - is BU:GU.
In general a BU:GU of 0.5 is considered balanced. Greater than 0.5 is hop forward, and less than 0.5 is malt forward.
We can't wait to open our doors and welcome Seattle to our taproom. Updates will be provided here periodically to make sure you are prepared to come and celebrate with us!
​
Date: TBD
Time: TBD
Wheelie Pop Brewing is owned by two friends, Jeremy and Mark, and their families. The two of them met through their sons, and quickly became friends - spurred by their shared love of motorcycles, racing, and beer.
Where did the name Wheelie Pop come from? Their boys used to call wheelies 'wheel pops' back in preschool and they though it would make a fun name.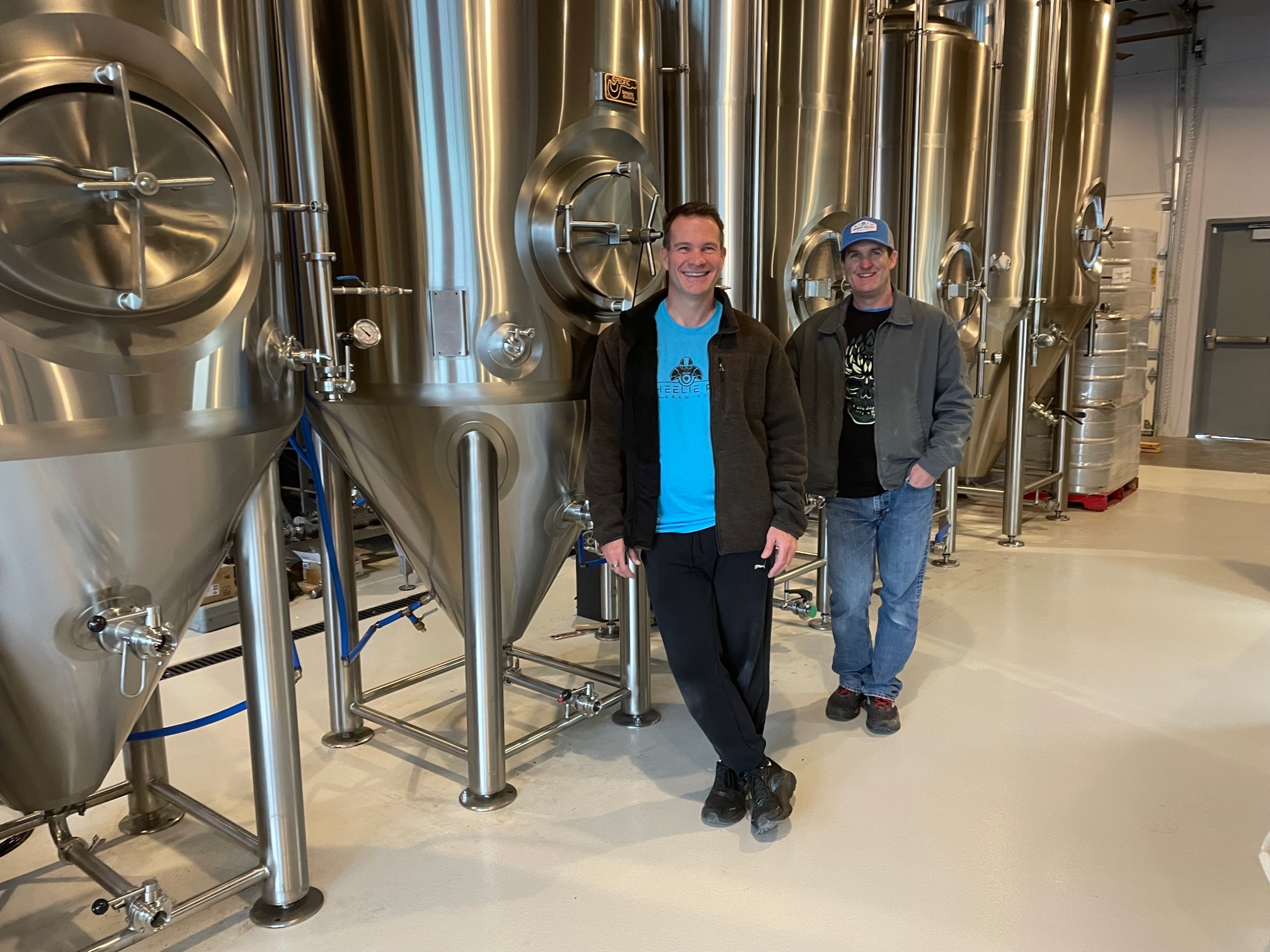 Visit our

Facebook

page for updates


We are opening soon in the Ballard Brewery District.
1110 NW 50th Street
Seattle, WA 98107
Hours
Monday & Tuesday: CLOSED
Wednesday - Sunday: TBD

We are kid and dog friendly - as long as BOTH are well behaved
If you need to email someone specific, please use the form below.
Head Brewer: Jeremy
Sales and Business Development: Mark
Operations, Accounting, and Compliance: Molly